This week we released the third annual Circular Carbon Network Market Report that shows interest in the sector continues to grow. Data from nearly 700 circular carbon companies shows that over the last two decades, innovators have cumulatively raised $5.77B, and in 2022 alone, raised $2.69B. This is a hopeful sign that the market is starting to mature and we are getting closer to scaling this category of critical climate solutions. 
XPRIZE has been tracking investment and commercial activity in the circular carbon sector since 2019 through an initiative called the Circular Carbon Network (CCN). Started during the former NRG COSIA Carbon XPRIZE, the research and analysis originally focused on carbon tech and utilization. The work has continued to expand under XPRIZE Carbon Removal, launched in 2021, to include all carbon removal pathways. In addition to providing general market intelligence and landscape analysis data about the space over time, CCN aims to help entrepreneurs feature their companies to interested investors, and to help investors find companies that fit their investment thesis and develop their pipelines.
Innovator Landscape
The Circular Carbon Innovator Index now represents nearly 700 companies spanning CO2 removal, CO2 conversion, point source capture and market infrastructure. The data shows continual growth over the last two decades, with roughly a quarter of companies established since 2020. 
It's not only the quantity of companies that have expanded – geographic diversity also continues to expand. The number of countries increased to 55 compared with 35 from last year's report, with representation from all hemispheres. A significant portion of this jump can be attributed to the reach of the XPRIZE Carbon Removal, which has engaged over 1,100 innovators across 80 countries, including those in the global south which are historically underrepresented in climate change solutions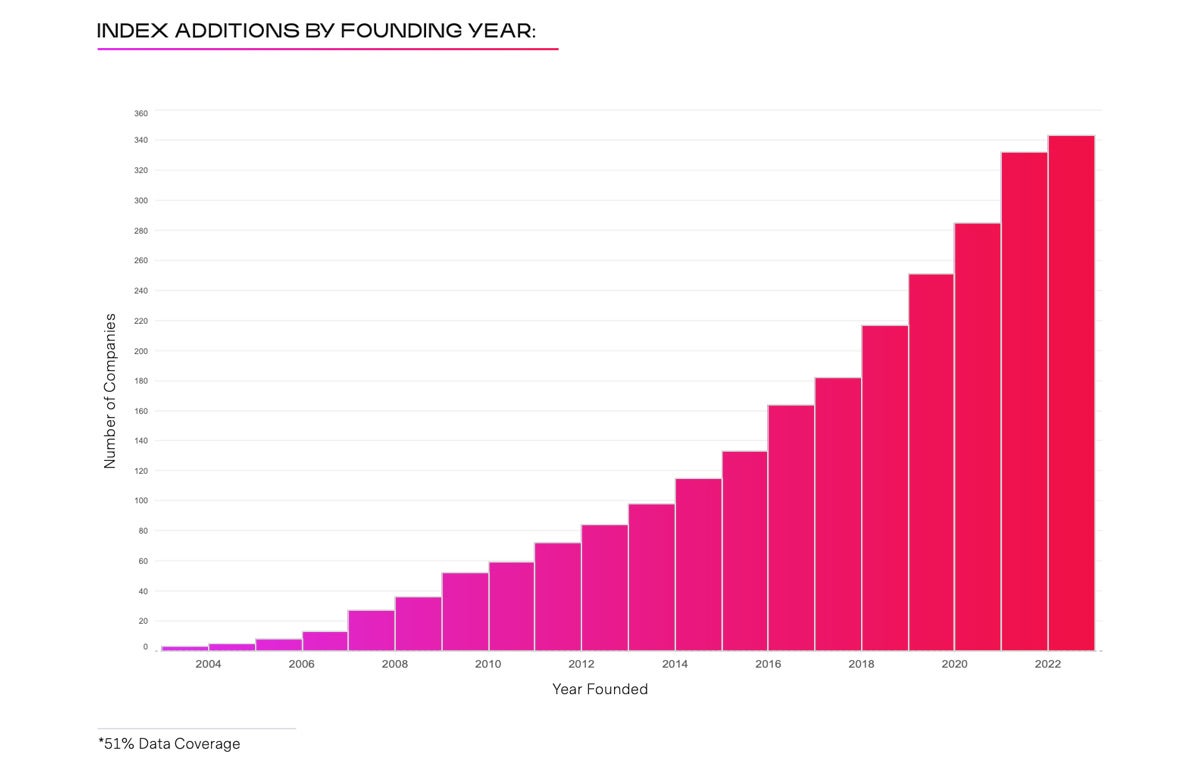 The Innovator Index continues to cover a wide range of solution types, although this year's report shows the carbon removal sector is taking a growing slice of the pie. Over half of the companies on the Index are pursuing CO2 Removal followed by nearly a third working on CO2 conversion. While the CCN data collection effort initially focused on the various categories of carbon utilization, the addition of carbon removal to the index and its strong representation in this year's report, is in line with the general explosion of interest and growth in carbon removal over the last few years. It is also worth noting the Innovator Index now includes the 287 qualified competitors from the Milestone Round of the XPRIZE Carbon Removal conducted in 2022.

A significant number of companies have reported they are pursuing hybrid solutions which shows an evolution of the landscape and may be an indicator of new innovation in the space.  The combination of CO2 Removal + Conversion was the most common, being reported by a quarter of companies. Many companies in this category are planning to use direct air capture (DAC) to capture CO2 from the atmosphere and then convert it into products such as building materials, advanced nano fibers, industrial chemicals, and more. In general, just over half of all companies on the Index (52%) reported making a physical product, either in combination with offset sales and tax incentives or as the single revenue driver, showing a strong representation of carbon utilization in the sector.
Among the CO2 Removal-only companies, over a quarter indicated a combination of approaches, with Land and Ocean Ecosystems being the most commonly combined category and Land Ecosystems solutions the most commonly combined overall. Land based CO2 Removal solutions include a long list of things including afforestation/reforestation, biochar, agricultural land management, soil carbon sequestration, and many others which can lend themselves to hybrid solutions. 
Commercialization Trends
The reported revenue range for companies on the Innovator Index is cumulatively $971M - $2.46B. Revenue by founding year shows a somewhat expected trendline over time, however, it is important to note that over 30% of companies founded since 2020 are already generating revenue. Pre-Commercial Pilot was the most common commercial stage represented on the Innovator Index, followed by Early Commercial Demonstration and Growth Stages. This finding highlighted a modest year-over-year increase from indexed companies in the Research & Development and Pilot phases – representative of both industry growth (more companies coming online) and a desire to fundraise for their companies by joining the Circular Carbon Network. The commercial stages by solution type were also relatively equally distributed, perhaps even slightly skewed toward later commercial stages; Demo, Growth, Mature stages combined represent well over half. This promising trend indicates a more mature cohort of companies than may be assumed of such a nascent sector.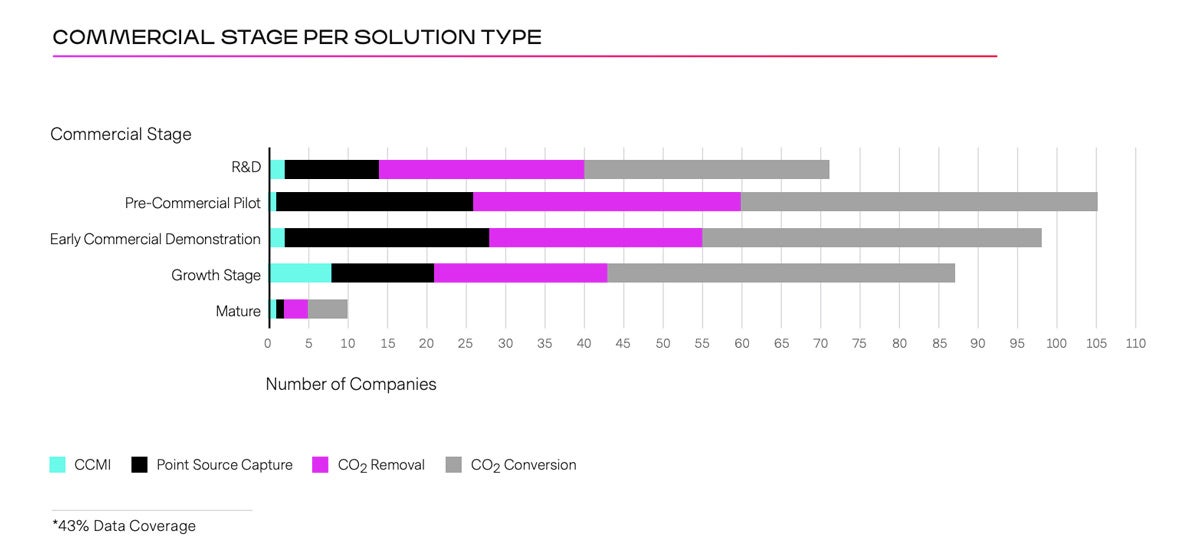 Capital Landscape 
Since the Circular Carbon Network began collecting data, we have tracked a positive trend toward increased investment. In 2022 alone, the Circular Carbon Deal Hub tracked 175 Deals amounting to $2.47B in total investment opportunities. 
The CCN Deal Hub is an effort to put live deal opportunities in front of circular carbon interested investors. The data comes from two sources: companies in the Innovator Index that are reporting deals directly on the Deal Hub as well as publicly available deals that have been compiled and researched by the CCN team. 
The greatest number and value of deals on the deal hub came from CO2 Removal followed by point source capture. And within that direct air capture was strongly represented. 
In addition to tracking circular carbon companies and deals, CCN tracks the growing number of interested investors over time. The Circular Carbon Capital Index currently represents over 250 Capital Providers across 20 countries who are interested in investing in this space. This grew by 100 from last year. Over half the firms in the Capital Index are venture capital firms, which together have deployed over $571MM into Circular Carbon. Angel investors also showed a slight increase in the amount of capital deployed, although still far behind the number of Private Equity firms interested in or deploying capital. Accelerators and Foundations both showed a large increase in the amount of capital deployed in 2022.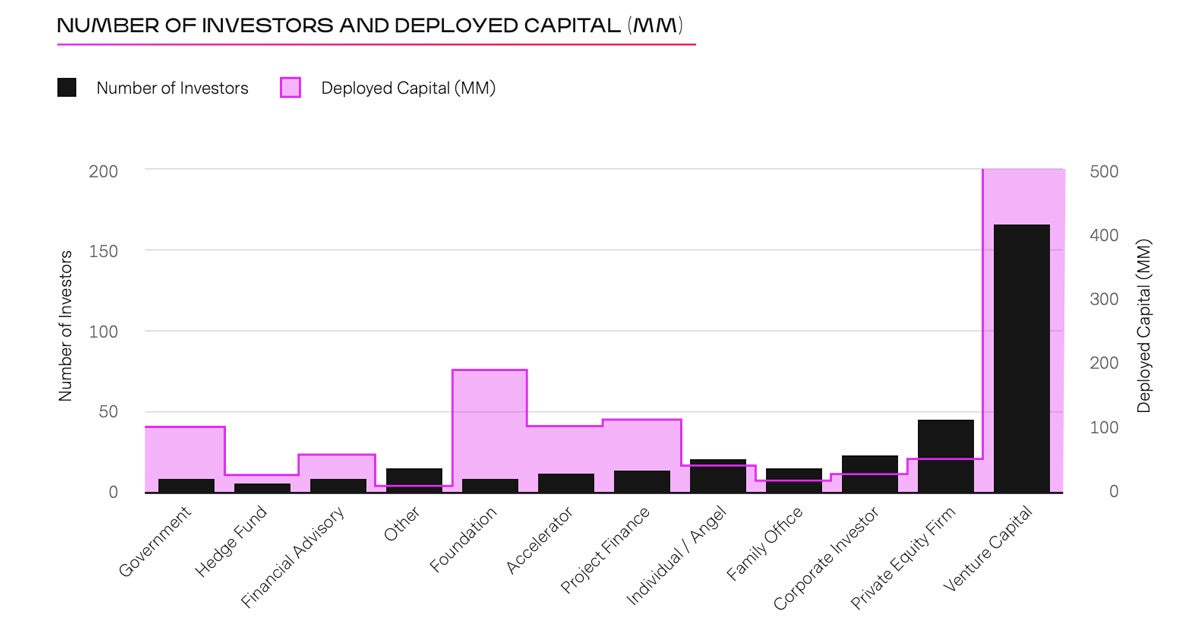 The Path Forward
The research and data collected through this effort over time helps to tell the story of the birth of a new industry and a new era for investing in climate solutions. With the latest IPCC report offering yet another sobering view of what lies ahead for our planet, we hope this glimpse into the circular carbon industry can offer a glimmer of hope around the new frontiers of innovation that is possible. 
XPRIZE and the Circular Carbon Network plan to continue tracking and analyzing the space over the next few years. We would love to hear how this data can support and amplify the impact of your work. If you are a circular carbon company and would like to be added to the Innovator Index you can create a profile here. If you are an accredited investor you can be added to the Capital Index here or sign-up for the Deal Hub here to receive the latest deals via email. 
Please reach out to us if you are interested in partnering moving forward or contributing data on the growth of the space at [email protected] or [email protected].  
Download the full report to learn more.
THE AUTHOR