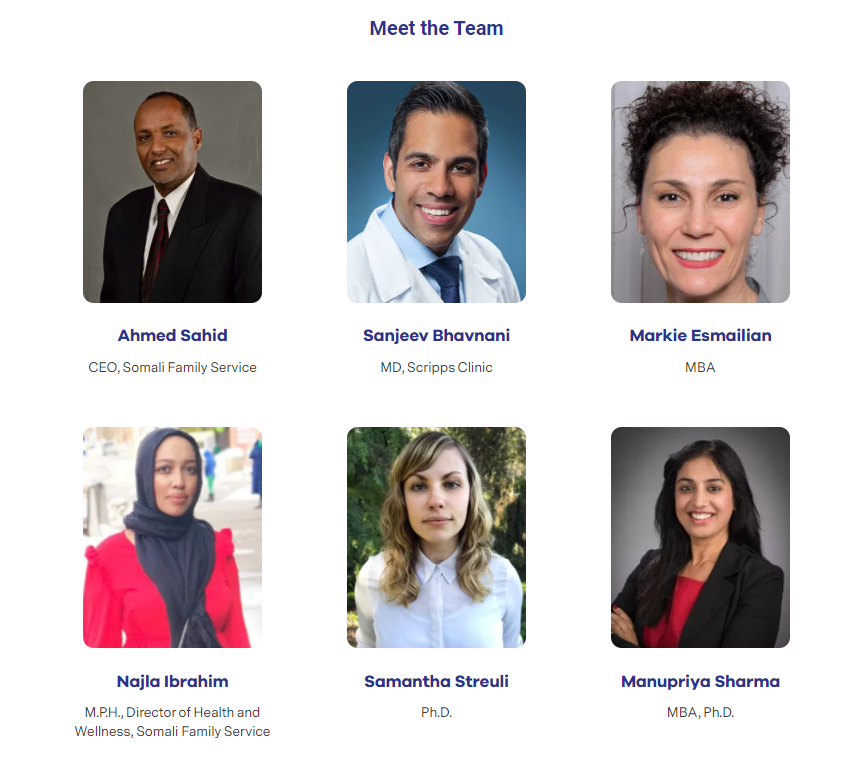 Tell us about your team…
Team SHIFA360 is a culturally and professionally diverse team with broad healthcare, technology, education experience, and a deep knowledge of community engagement methods for impact.   
We have extensive experience working with underserved communities using innovative technology tools to engage and empower.  Our backgrounds in healthcare and community work were the foundation of our simple yet robust Community Health Worker training program.  
Why are your team's efforts important now, and how do you see them scaling up in the future?
Our aim was to build an evidence based CHW training program which included best practices and learning elements from many successful existing training programs from across the country and make it accessible and scalable.  
We have engaged healthcare providers and government agencies to learn about their needs and mission centered around utilization of CHWs and shared about the SHIFA360 solution, and our mission.  We hope to have a seat at the table when the State of California is ready to standardize CHW certification programs.   
Our work has been noted by many community and government stakeholders.  With further funding, we will be able to expand our curriculum to include chronic conditions education and prevention.  
Being resilient and resourceful during challenging times was a big part of our success and we believe that these qualities will help us break through barriers to scale.  
How has the XPRIZE Rapid Reskilling competition furthered your success? How has it changed you?
XPRIZE Rapid Reskilling has provided us the opportunity to engage governmental and non-governmental partners for collaboration.  We are now viewed as not only a provider of social and educational resources but provider of Community Health Workers reskilling program for the county of San Diego.  
XPRIZE Rapid Reskilling has made us super agile and flexible in our processes to meet the metrics set upon us and do our very best to reach our goals beyond business as usual.  We learned that to be successful, we must rely on our own resources and develop resources we do not have in order to meet our goals. We learned that at times partners may not come through and we have to be agile and resourceful to close the gap. 
How is your solution tailored to reskill workers in the pandemic? What have been the unique challenges or benefits of launching your solution during the COVID-19 pandemic? 
SHIFA360 is an online reskilling solution which requires the participants to have access to a mobile device or a computer with internet access.  During the pandemic, everyone had to quickly adjust to a virtual world using mobile phones to access information or connect with others.  There were no SHIFA360 reskilling program participants who did not have access to a computer or internet.  The unique challenge was the lack of in-person meetings to maximize cohort engagement and participation. To mitigate this, we hosted two Zoom meetings per week to allow for participants to ask questions, go over material and meet one another, though this approach lacked the level of enthusiasm of in-person meetings.   
What are you looking forward to in the next phase of the competition as a Semifinalist? 
Now that we have completed our phase one program development, we are looking forward to additional funding to expand our curriculum to include a deeper knowledge of chronic conditions, scalable Learning Management Software (LMS) solution, as well as developing other VR health education content for our CHWs to carry in their toolbox.  We understand the impact of using human-centric technology in community outreach and hope to continue developing our method to include the above elements.  
Lastly, outside of your work, what aspect of the future of work excites you right now?
It is exciting to see technology help the healthcare industry improve outcomes.  It is exciting to reskill the mature, respected members of the community who lack the technical skills to prepare them for jobs requiring use of technology to close the gaps in age and socioeconomic equity.  What is exciting is to provide the young people who may not have a clear career path the opportunity to get training and enter the healthcare sector and thrive by helping others.  
Learn more the rest of the XPRIZE Rapid Reskilling semifinalist teams in the race to the finish here.