A look at the rapidly growing carbontech industry.
By Nikki Batchelor, Director, Prize Operations & Impact
In 2015, carbon conversion was a phenomenon understood by few, and the phrase carbontech didn't even exist yet. Now, five years after launching the NRG COSIA Carbon XPRIZE, carbontech is referenced regularly as a tool in the fight against climate change, and corporates like Amazon, Mitsubishi, and LafargeHolcim are investing in these technologies to clean up their carbon act.
Even with the explosion of interest in the last few years, the potential for growth has barely been tapped considering that the total available market for carbon-to-value products including fuels, building materials, and plastics is estimated to be $1.07 trillion per year for the US alone and $5.9 trillion globally (Carbon180).
XPRIZE has been analyzing and tracking the growth of this industry through an initiative called the Circular Carbon Network (CCN). In October 2020, XPRIZE and CCN published the inaugural Circular Carbon Market Report outlining the growth of the industry across the start-up, investment, and corporate landscapes. 
The CCN Innovator Index shows all of the start-ups working on carbontech solutions. As of October 2020, there were over 330 companies across 27 countries working in carbontech, and 62% of those companies were founded since 2010.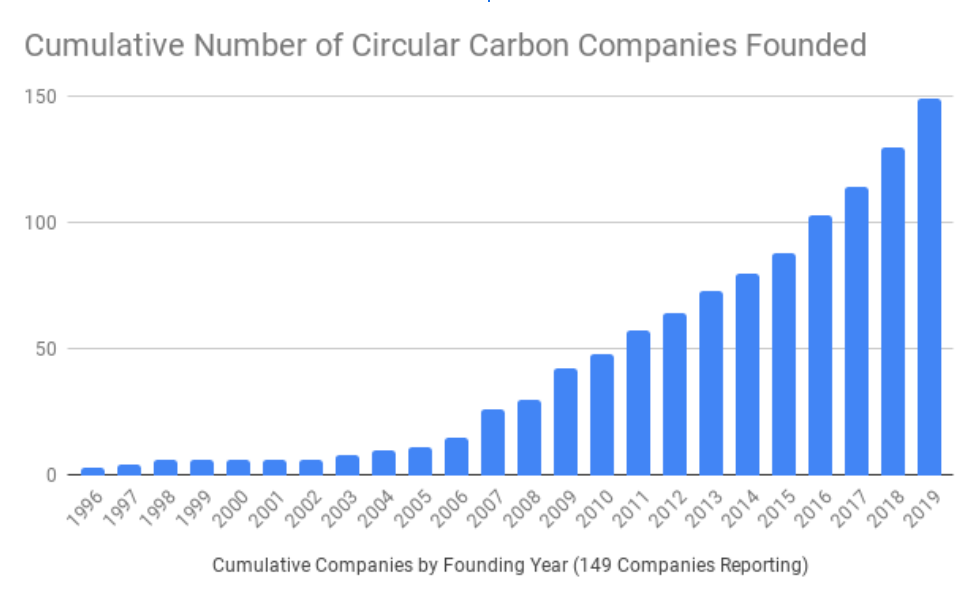 Carbontech encompasses dozens of different product pathways, but the data showed concentration around a few key areas: CO2-to-fuels (20%), CO2-to-chemicals (19%), and CO2-to-building materials (15%). We also see this range represented across the work of the teams still in the running to win the Carbon XPRIZE, with four of the Finalists working on concrete and building materials (CarbonCure, Carbon Upcycling Technologies, Carbon Corp, CarbonBuilt, Carbon Capture Machine), three working on chemicals and fuels (CERT, Dimensional Energy, Air Company, Breathe) and two working on advanced materials like carbon nanotubes and nanoparticles (C4X, Carbon Upcycling Technologies, Carbon Corp).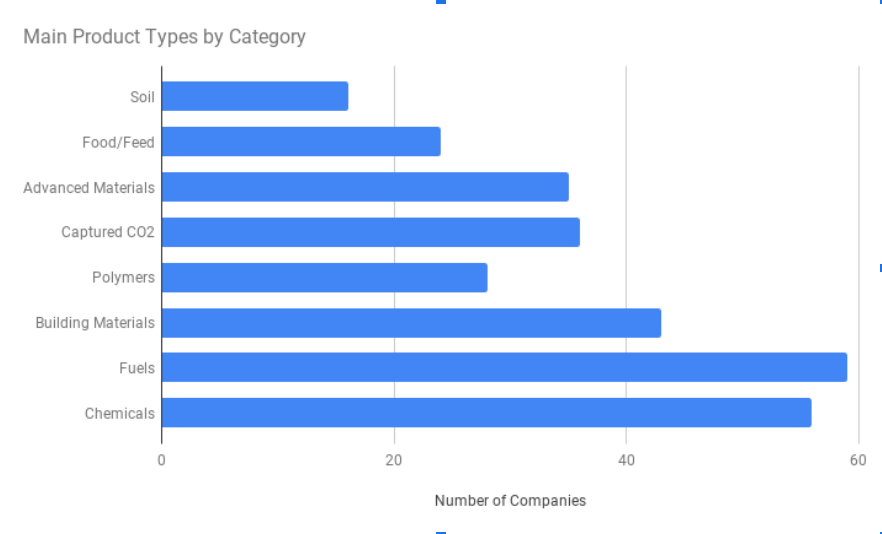 Companies in this space are at varying stages of development, with 34% in the "Commercial Demo" phase, 26% in the "Growth" phase, and 23% in the pilot phase. Overall that means almost 85% of the companies being tracked are actively commercializing or are already commercial. The remainder are still in the "R&D" phase, with a small handful being classified as "Mature". 
While this data shows that the companies on the Index are still generally weighted toward the "early stage" of commercialization, the Circular Carbon solution provider landscape is by no means limited to research-focused, pre-commercial efforts.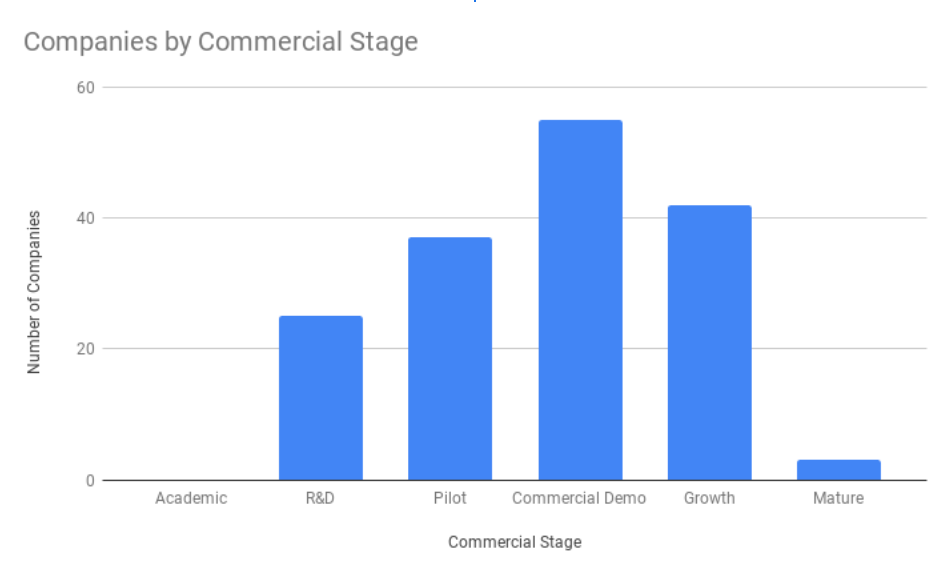 Another important area we have been tracking, is growing investor interest in carbontech. Collectively, companies on the CCN Innovator Index have raised over $2.2 billion to date, which is an increase of $200 million from 2019 data.

CCN surveyed 122 cleantech-oriented investors for the Capital Index that represent $195 billion in assets under management. Not surprisingly, hot cleantech sectors such as energy storage, solar, and mobility sit at the top of the priority list for many of these firms. But carbontech also made a strong showing! Carbon curious investors represent $168 billion of total assets under management. Within the carbontech sector, the areas of greatest interest to private capital providers include building materials, chemicals, capture, polymers, and food and agriculture.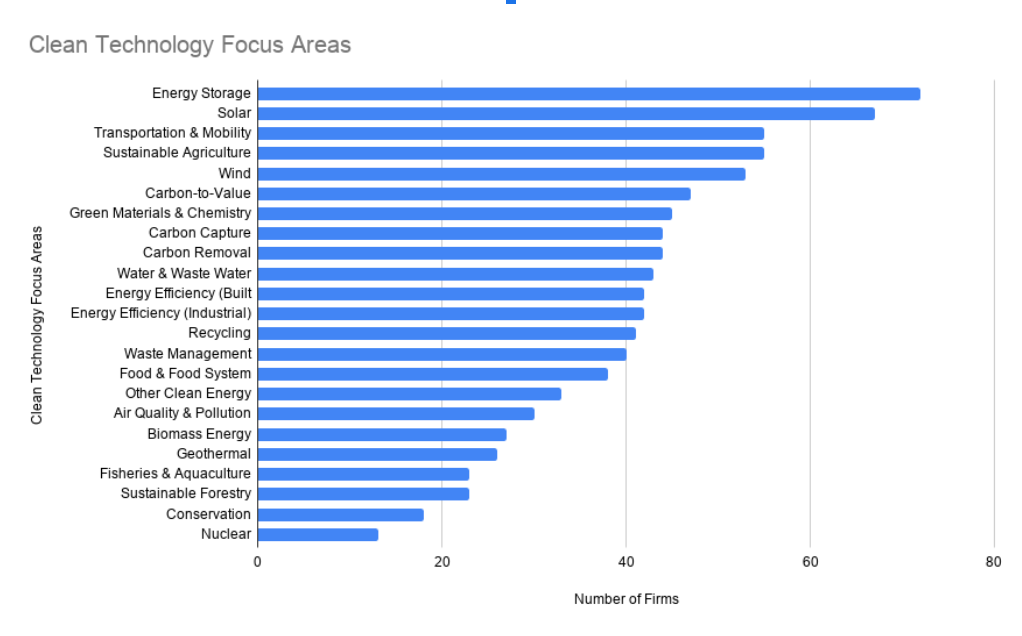 In addition to investor interest, there has been a growing appetite among corporates looking for new technologies and solutions to meet their net zero commitments. As of October 2020, CCN's Corporate Index covers 61 large global companies actively engaging on carbontech and carbon removal, from 21 countries and 22 industry verticals (see below). While this is still a growing list of companies, it represents approximately 10% of global CO2 emissions. 
Corporates will be important strategic partners for start-ups in this space to scale at the rate the climate challenge demands, as they have the global infrastructure, technical expertise, and financial backing to deploy these new technologies. New corporate global alliances in the space are organizing, too. Take for example the Carbon to Value Initiative spearheaded by Urban Future Lab, Greentown Labs, and Fraunhofer USA, NYSERDA, and Government of Canada, and including corporate members ABInBev, ConEdison, Fluor, Johnson Matthey, Mitsubishi Chemical, Suez, and W.L. Gore & Associates.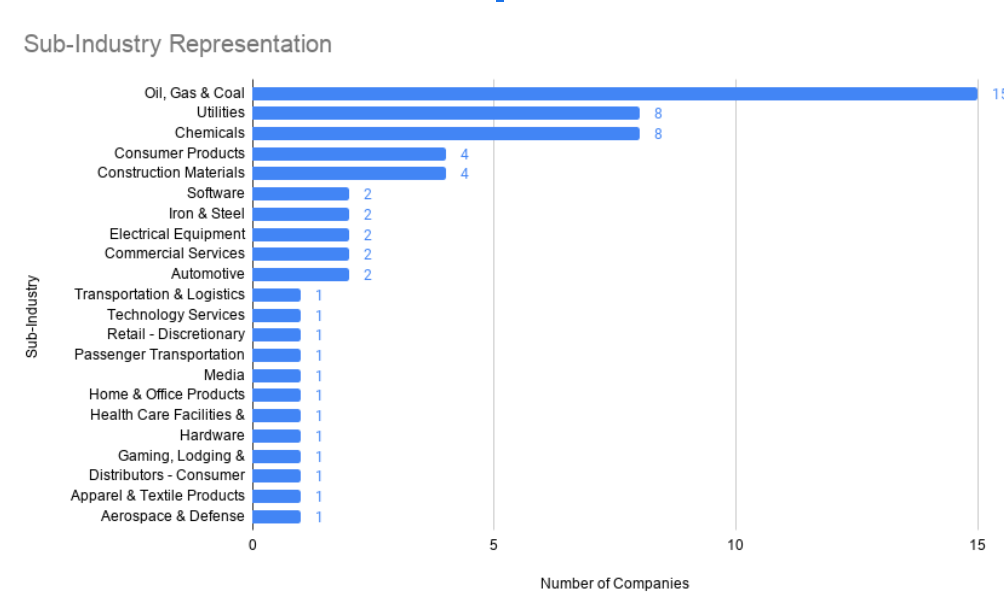 Over the past five years, carbontech has gone from an obscure term loosely thrown around by academics and ahead-of-their-time entrepreneurs to now being included in the press releases of the biggest corporates in the world. Interest in carbontech companies and concepts is surging and shows no signs of abating, meaning there's no better time to get in at the ground floor and learn about what may be a pivotal new industry as governments and corporates band together to combat climate change.  
For more insights, sign up for the CCN newsletter at https://circularcarbon.org/.