The commercialization of space is driving forward bold new achievements - like the upcoming first-ever launch of astronauts on a SpaceX rocket, the first crewed launch from U.S. soil since 2011! With the Ansari XPRIZE, Northrop Grumman Lunar Lander XChallenge, and Google Lunar XPRIZE, XPRIZE has been a leader in commercial space since 1996, helping make milestones like these into a reality. Today, I'm taking a look at the post-prize impact of the Google Lunar XPRIZE and the latest exciting developments as NASA looks to go to the Moon with the help of these exciting private space companies!
After an XPRIZE is over, what kind of impact do the competing teams go on to make? And what kinds of investments can they see? 
In the case of the Google Lunar XPRIZE, the audacious competition ended without a $20 million grand prize winner. Instead, a total of $7.25 million was awarded in Milestone, Diversity, and Moonshot prizes. However, since the prize's conclusion, the teams have received hundreds of millions of dollars in investment and new mission contracts! So, while the grand prize itself went unclaimed, the ultimate goal of the competition - to spark a robust new era of lunar industry and privatized space travel  - has become an exciting reality. Today, I'll walk through some of the teams' key achievements that have catalyzed this new boom for the Moon.
To begin with, NASA's massive Artemis program, which was inspired by efforts of the Google Lunar XPRIZE teams and other private space enterprises, looks to embark on an ambitious new Moon program by employing the use of privately-built lunar landers and other technology. This new method greatly reduces the cost of going to the Moon by bringing in entrepreneurial innovation.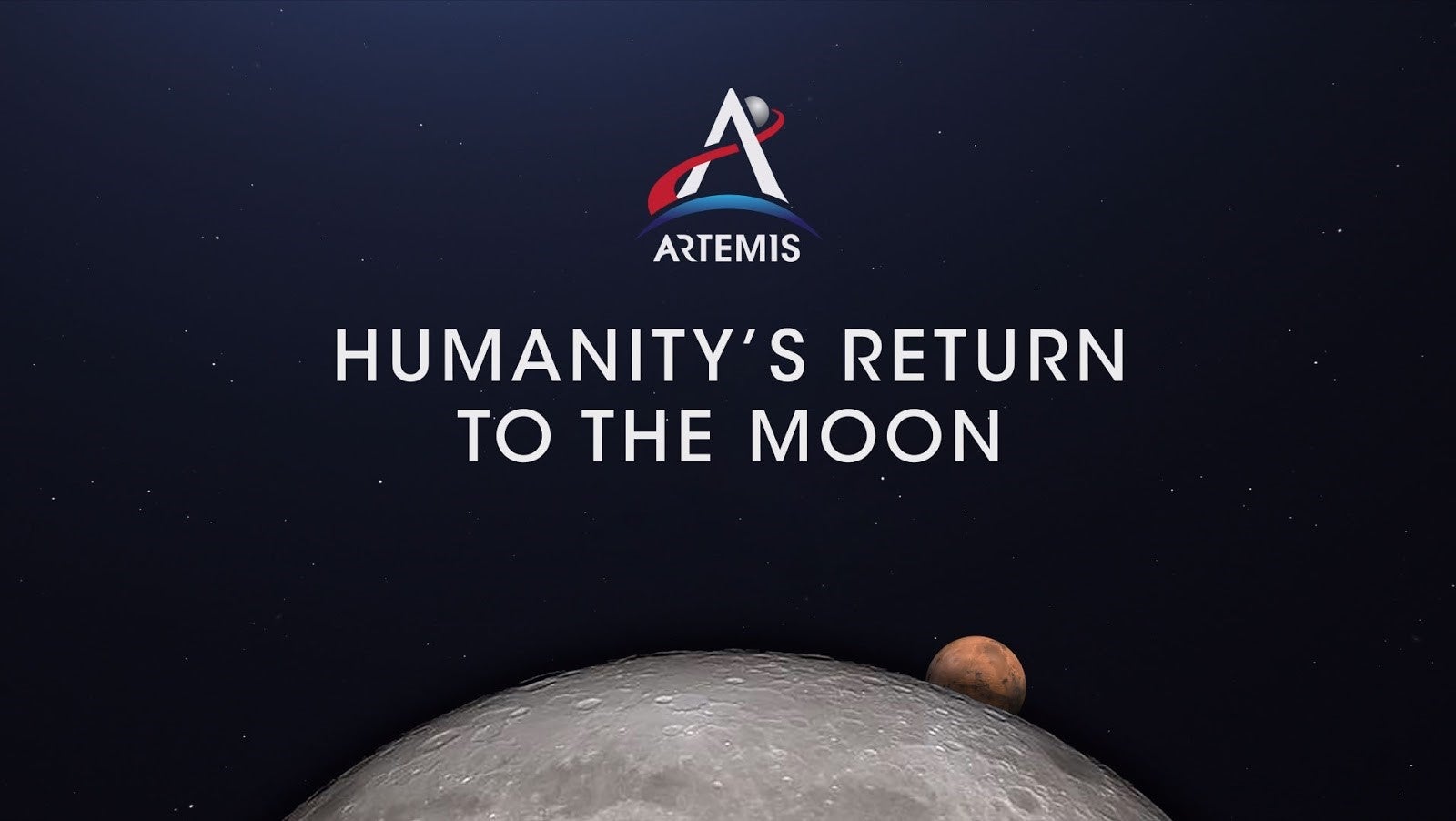 NASA'S new Artemis moon program looks to leverage the private lunar space sector. Image: NASA.
The NASA Artemis program has resulted in hundreds of millions of dollars in new contracts for American private space companies. Former Google Lunar XPRIZE team Astrobotic has been leading the charge with a $79.5 million contract for NASA moon missions, including a planned July 2021 mission to the lunar surface. Former Google Lunar teams like HAKUTO, Team Indus, and Moon Express have also either directly or indirectly been involved with Artemis-related Moon mission contacts, and even a winner of XPRIZE's 2009 Northrop Grumman Lunar Lander Challenge has picked up a large contract: Masten Space Systems and their recently announced $75.9 million contract.
Of course, I can't talk about the efforts of the Google Lunar XPRIZE teams since 2018 without mentioning the flight to the Moon of team SpaceIL in early 2019. Claiming our first-ever $1 million XPRIZE Moonshot Award, the team launched their Beresheet moon lander on a SpaceX Falcon 9 in March 2019, reaching lunar orbit a month later. And, while the spacecraft ultimately crashed during its daring attempt to land on the surface, SpaceIL became the first private entity to ever reach the Moon (or any other planetary body, for that matter). Considering how many space missions there could be in the following one hundred to five hundred years from now, that's a historic distinction!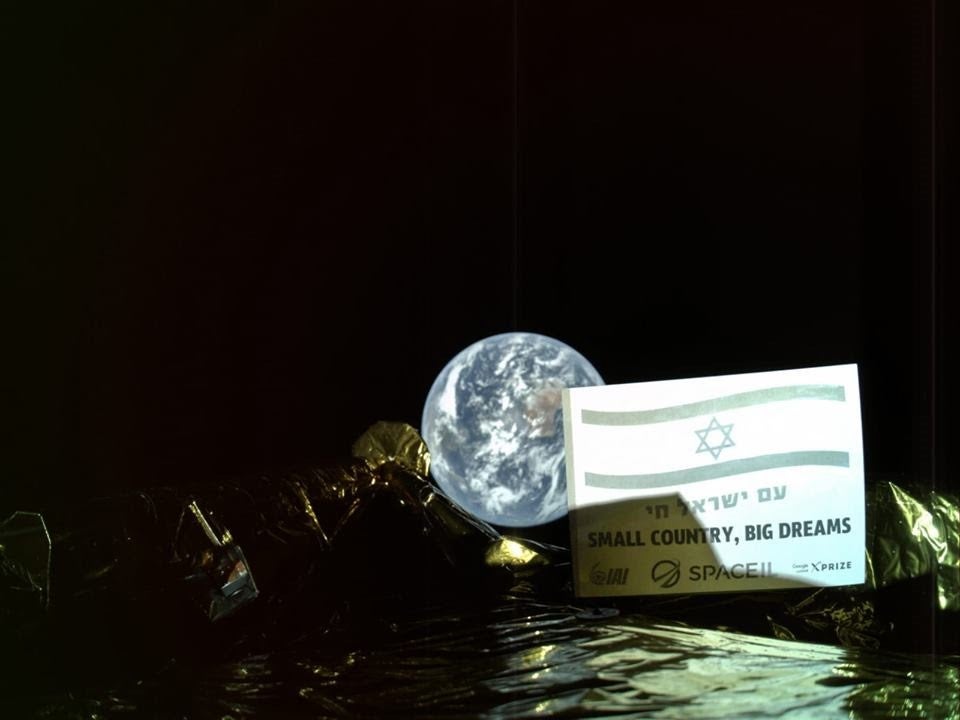 The Beresheet moon lander was the first private spacecraft to ever orbit the Moon, inspiring millions of people around the world (all of whom, technically speaking, are in this picture).  Image: SpaceiL.
SpaceIL's mission has reached millions of people, launching Israel to the forefront of the world's space nations and catalyzing a whole new generation of Israelis who will look to the stars- and the Moon - in their future.
Another team that has made historic strides at home is Japan's team HAKUTO. After raising an astounding $90.2 million in their Series A funding round, the team then worked with the Japanese government (including Prime Minister Shinzo Abe) to launch a $940 million fund for private space in the country. That's a lot of funds for those dreaming of taking Japan to the next level in space! HAKUTO's success has inspired a new industry in Japan, and we're all looking forward to their two Moon missions planned for 2021 and 2023.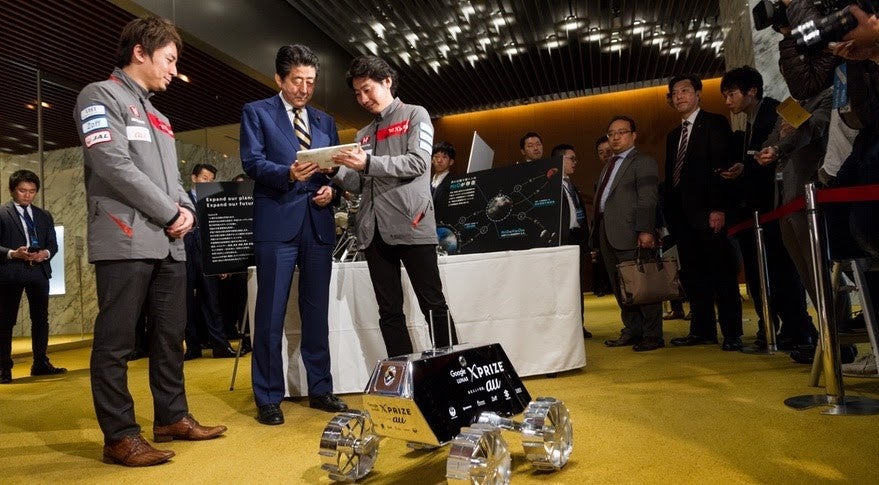 Japanese Prime Minister Shinzo Abe with team HAKUTO at an event launching the new $940 million dollar fund for private space companies in Japan. (He got to drive the Moon rover!) Image: ispace.
And, speaking of strides at home, team Astrobotic's success with NASA contracts has had an impact in their hometown of Pittsburgh, Pennsylvania. The team plans to open its 47,000-square-foot Lunar Logistics Headquarters facility soon ; the state-of-the-art space mission control, which will support up to four lunar landers at one time, will be an important part of future Moon missions for NASA, bringing Pittsburgh forward into the cutting edge of NASA and the space sphere.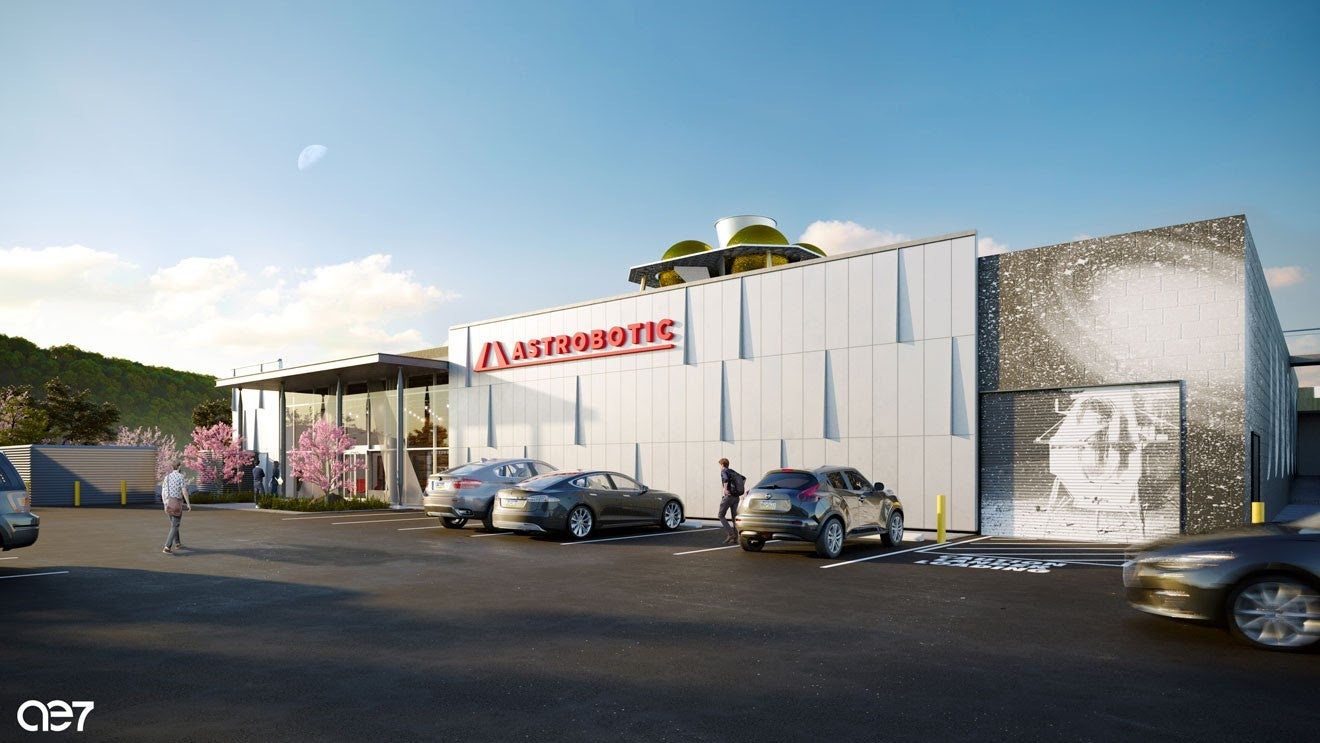 Astrobotic's new Lunar Logistics Headquarters facility, planned to open soon in their hometown of Pittsburgh, Pennsylvania. Note the giant moon lander residing on the roof. Image: Astrobotic.
Other former Google Lunar XPRIZE teams remain active as well with Planetary Transportation Systems (formerly Part-Time Scientists) having signed an agreement with the European Space Agency and teams like Puli still operating and in the mix.
So, what does this all mean? Mankind is heading back to the Moon, and these private companies are bringing jobs and investment back to their hometowns to do so. As humanity grows, if we use exploration in a responsible and environmentally sustainable way, the benefits become exponential, both economically and for our species as a whole.
As Neil DeGrasse Tyson illustrates in this year's Cosmos: Possible Worlds, we are all made of starstuff; we, as life forms and as humans, are a way for the universe to know itself. And, we are a way for the stars to return to themselves, as we explore into space. 
By expanding our species' vision beyond just the Earth, we can learn to better understand and appreciate what we have on this world of wonder and grandeur, and what we have in ourselves. Sending things to orbit or to the Moon is a first giant leap towards granting humanity that greater, wider perspective that we can take to home.
So, keep one eye on the Moon, because, while the Google Lunar XPRIZE competition itself has concluded, the lunar industry that it sought to catalyze is just beginning to boom. The future of the Moon is looking bright, and it's going to be an inspiration for millions.
THE AUTHOR